The Stratford Tennis Club is a not-for-profit organization and benefits from the wonderful support of its members and the community. All your efforts help us maintain this top notch facility and allow us to offer the membership a variety of quality activities and events. The Stratford Tennis Club was very fortunate this year, to receive a $46,300 grant from the Ontario Trillium Foundation (OTF). The Ontario Trillium Foundation strengthens the capacity of the voluntary sector through its investments in community-based initiatives. The OTF grant helped upgrade the lighting for evening play, enabled us to repave the practice wall area, purchase a ball machine and rebuild the deck.
On July 20th 2013, we held our Woods and Whites Round Robin. It was the primary fundraising event for the club in its 45th year. During this event, special recognition of the Trillium grant was made. In attendance were Perth-Wellington MPP Randy Pettapiece, OTF representative Rena Spevack Orr, and City representative Kerry McManus.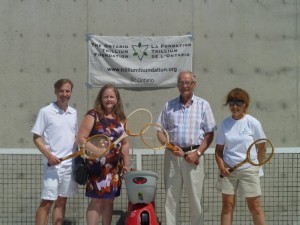 Past and present members gathered for a day of tennis and wonderful cuisine. The silent auction consisting of donations from the community and our membership, helped to raise sufficient funds to replace the flooring.  Due to its success, the Woods and Whites Round Robin has become a popular annual event! Funds raised in 2015 are directed to replacing our aging light shed.

WAYS TO SUPPORT THE CLUB
Monetary donation for a club renewal project
Volunteering at a bingo
Donating food for an event
Securing new members
Donating items for a silent auction
Sponsoring a Tennis League Team
Becoming a Board Member
Participation in club activities and events
Donation of used tennis racquets
Special thanks to our 2017 community supporters
2017 Woods & Whites Donors
AJ's Hair Salon
Avon Boat Rentals
Best Western PLUS The Arden Park Hotel
Bill Drake, Torbram Electric Supply
Black Swan Brewing Co.
Blowes Stationery
Bradshaws & Kitchen Detail
Chocolate Barr's Candies
Chris Parson
Deb & Jess Barton, and Family
Expressions Hair Design
Heaton Health Beauty & Wellness, Maggie Sadowski-Heaton & Graham Heaton
Janet Bradley
Juliet Edwards
Junction 56 Distillery, Erin Heisz
Linda Edwards
Linley's A Food Shop
Marilyn Holmes
Maureen & Will Kramer
Moss Berry Farms
Nancy Chung
Of Courts
Pazzo
Resonance
Rheo Thompson Candies
Ross' Bike Works
Shane Norrie Contemporary Gallery
Sinclair Pharmacy
Sirkel Foods
Stratford Festival
Stratford Motor Products, Steve & Caryn Scott
Stratford Summer Music
Stuart Arkett
Taylor Fluid Systems
The Prune Restaurant
Wills & Prior
Wilson Sports
Zdenko Andrekovic